When you ask someone the question, boxers, or briefs, you might get a lot of different answers. These men's underwear styles have been around for some time now and the popularity of one versus the other has fluctuated depending on lifestyle trends and fashion as well.
For a modern example of how fashion has influenced men's underwear choices and made the argument, in this case for briefs over boxers, think of the rise of skinny jeans. Have you tried getting a pair of skinny jeans over a pair of loose boxers? While it's not impossible, it can be rather difficult to do so without the boxer legs bunching up.
On the other hand, the men's brief was originally called the "jockey" or the "jockey shorts". You might think that it might have something to do with the brand, but actually, it's more because of the function that briefs were designed to have. They were designed as a way to get the daily support of a jockstrap or athletic strap in your underwear. If you haven't really made a firm choice on boxers vs. briefs on your underwear style of choice, here are a few factors you should consider.
Boxers are said to be the most comfortable underwear
Boxers vs briefs shorts were originally designed to be worn by boxers. The loose fit was specifically designed to allow them to move their leg's unimpeded, while still providing adequate cover. In modern times, this means that boxers as underwear are considered airy and comfortable to wear. They also less prone to chafing or sweating than tighter fitting garments.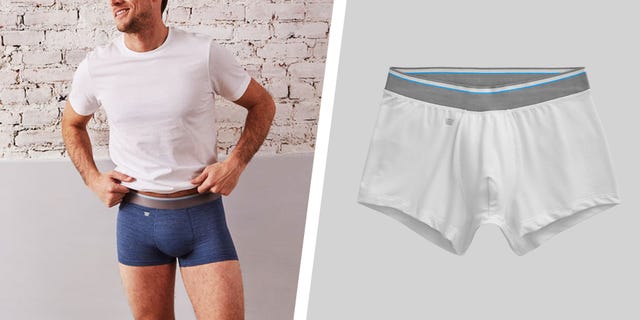 Briefs were designed to provide support
As we mentioned, briefs were designed to function similar to a jockstrap, which is meant to support and protect the groin area during physical activity. They are usually softer and more flexible than a traditional jockstrap and more comfortable for daily use but are still tight and close-fitting.
Boxers provide more coverage so they are more versatile
Boxer legs come down to thigh level, which some people feel is a more comfortable and "modest" way to go. Because boxers are about the length of proper shorts, it's somewhat acceptable to go around in just your boxers in casual settings. If you are just at home or need to step out to pick up a delivery, you shouldn't scandalize anyone too much if you walk out in your boxers.
Briefs make your clothes fit better
Because there's is more loose fabric to arrange, boxers can sometimes bunch up underneath your clothing, ruining the lines or the fall of your pants. It's not just skinny jeans where bunching boxer fabric might be a problem, however, they could also ruin the cut of a nice pair of suit trousers.
Your wardrobe has room for both
When it comes down to it, the answer to boxers vs. brief depends on your lifestyle and personal choice. But, it's actually a good idea to leave yourself room to choose and have a few briefs and boxers available. Depending on what you are going to be doing today and what you will be wearing, make your choice appropriately.