Have you ever wondered how to combine GIFs into one to create a short entertaining video to share on the social platform when you get a collection of funny animated GIF files? Google it, you will be presented with so many GIF combiners and creators that are available to serve your purpose online or offline. All you have to is to make choice based on your demand. To prevent you from being dazzled in numerous GIF merging software, below list the best desktop one and top 4 online ones.
Part 1: Best Desktop GIF Combiner - Joyoshare Video Joiner
Part 2: Top 4 Online GIF Combiner Tools
Part 1. How to Combine GIFs Using Joyoshare Video Joiner on Desktop
Are you seeking a GIF merging program to make multiple animated GIFs merged into a whole? Nicely, here such a program called Joyoshare Video Joiner is technically developed to join variegated GIFs, live photos, videos, and audios with no quality loss.
Coming with the strong compatibility, importing various formats of files as well as converting them to a large variety of media formats is allowed with such software. Not only that, but it also has a built-in editor, supporting cutting and editing your animated GIFs. Joyoshare Video Joiner supplies two merging modes for you, but for best results, you ought to choose the encoding mode to combine GIFs.
Step 1: Drag GIFs into Joyoshare Video Joiner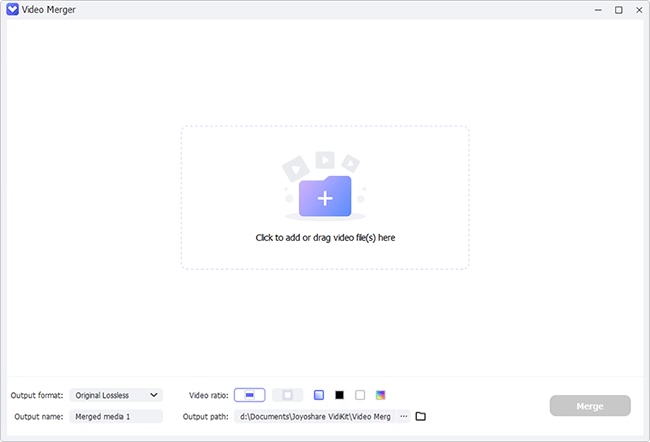 Please download and install Joyoshare Video Joiner on your computer first. Next, you need to drag your GIFs to the program or add them with the "Open File" icon located in the bottom left corner.
Step 2: Enable encoding mode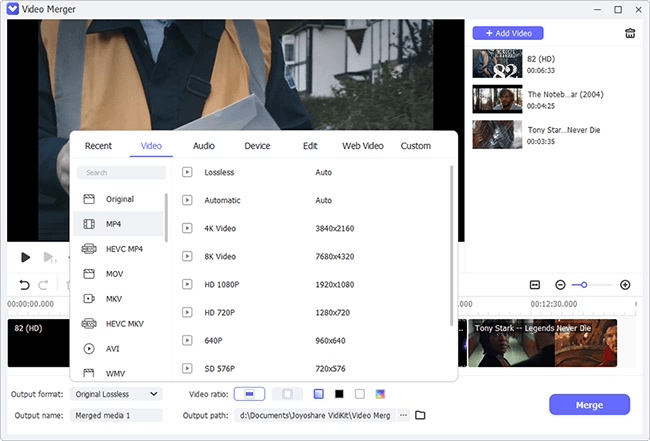 In this step, you ought to tap on "Format" to select a merging mode and output format. As described previously, to better merge GIFs, you have to choose the encoding mode, which supports to customize codec, resolution, frame, and bit rate of the selected output format. Then, just click "OK" to go back to the main interface.
Step 3: Cut GIFs

At this time, if needful, you are able to rename, preview, and rearrange these GIFs or remove undesired sections from them.
Step 4: Edit GIFs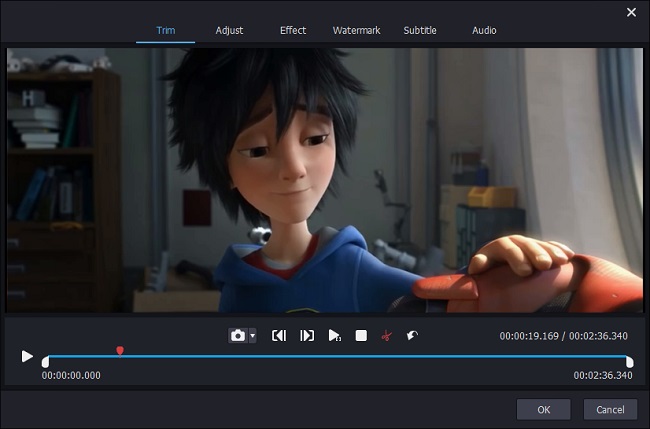 Merging GIFs with the encoding mode gives you the ability to edit them. According to actual demands, you are permitted to trim, crop, rotate them, add visual frames and effects and subtitles, etc.
Step 5: Start combining GIFs
Lastly, you only touch "Convert" to let Joyoshare GIF combiner merge these GIFs into one. After that, you can watch it in your local file.
Part 2. Top 4 Online GIF Combiners to Combine GIFs into One
#1. EZGIF Maker
EZGIF Maker is a free GIF combiner that focuses on easily merging multiple GIFs online. It can not only join GIFs together one after another but also make images in other formats like GIF, PNG, JPG, and so forth to an animated GIF. Furthermore, with this GIF maker, you are capable of cropping, rotating, optimizing GIFs, adding effects and texts, changing speed, etc.
However, what needs to be noted is that these GIFs to be merged should have the same sizes and frame rates. Incidentally, the output format you can select in this program is limited. Even so, it is, in principle, as worthy as Joyoshare Video Joiner in terms of merging GIFs. The following are the instructions to guide you to do it with EZGIF Maker.
Step 1: Get started by visiting the official website. Then choose GIFs you want to merge from your local files under "Select images". After selecting, please tap on "Update and make a GIF" to go to the next step;
Step 2: In this section, you will see every frame of these GIFs and you can change order. If these GIFs are not equally sized, you will be prompted to resize them to match the smallest one. Once done, hit on "Make a GIF";
Step 3: Now, if necessary, you are able to edit the animated GIF, like cropping and cutting it, applying effects, adjusting speed and so on;
Step 4: When everything is ready, you need to touch "Convert" and select a format as the output format.
#2. GIFMaker.me
GIFMaker.me is one more web service that you manage to make use of to combine GIFs into one without any software assembled on your computer. Working with it, besides merging GIFs, you could also create GIF animation, slideshows, video animation with music effects, resize GIF file, etc. Whether you are beginners and professionals, it fits you well, as operating it requires absolutely no technical skills, just installing the flash player in your web browser. 
Step 1: Gain access to www.gifmaker.me. In its main interface, find and click "Upload Images" button to add your GIFs in bulk;
Step 2: Once added, preview on the "Control Panel" and feel free to adjust canvas size, animation speed, repeat times, and add background music (YouTube only);
Step 3: Next, select "Combine Animated GIFs" option. Wait until you are prompted that the combination is finished. Click on "Download this GIF" to save it to your computer.
#3. VEED.IO
Another free online tool worth using is VEED.IO when it comes to combining GIF files into one. Its user interface is friendly, the simplicaity of operator is practical. Moreover, it officially develops full functions. You are allowed to personalize GIF files by applying various editing effects before merging. It doesn't restrict the uploaded file to follow a certain size. You are able to import any number of GIF files without size limits to process. But unpleasantly, it will attach the official watermark to the final merged GIF file.
Step 1: Visit https://www.veed.io/tools/combine-gifs to go to the VEED.IO - Combine GIFs. Click "Get Started Now";
Step 2: In the next interface, tap on "Upload the Files" to add one GIF file, then click "Add Video" to add another or more GIFs;
Step 3: When all GIFs to be combined are uploaded, edit them as you like, such as add text, shapes, Emojis, progress bar, filters, effects, and more;
Step 4: Lastly, press "Export" button located at the top right corner to start rendering. As soon as finished, your GIFs will be merged into a whole one. Based on your needs, download the final work as video or GIF.
#4. GIPHY
Not only is GIPHY one of the largest online library of GIFs and Stickers but also a totally free GIF maker to edit and combine many animated GIF files at a time. It works well on all web browser, iOS and Android devices. Although without the requirement of software installation, it needs you to register an official account, otherwise, you can't get permission to use it. Provided with a rich number of funny editing effects and animations, you might create unique GIF files in any way you like.
Step 1: Directly copy and paste the URL: https://giphy.com/create/gifmaker in any browser to access the main interface of GIPHY GIF combiner. You have to create your account and log in before performing;
Step 2: Choose the "GIF" option to upload one animated GIF, then click "Add more images" > "Browse Files" or add another GIF URL to import other GIFS;
Step 3: Once loaded up, go to "Continue to Decorate". According to your demand, you get to add any caption, stickers, filters, and draw to the added GIFs;
Step 4: Next, touch "Continue to Upload" and followed by "Upload to GIPHY" to combine these GIFs into one.
For more methods, please go to the source page:
https://www.joyoshare.com/join-video/combine-gifs.html