History of Trimbakeshwar Shiva Temple:
Trimbakeshwar Shiva Temple is an ancient and historic Hindu temple in Trimbak village (Located in the Nasik district of Maharashtra) dedicated to Lord Trimbakeshwar (Supreme deity Lord Shiva). It is 28 Km far from the City of Nasik. Trimbakeshwar Temple is an ancient temple of Lord Shiva and identified as one of the divine 12 Jyotirlinga. The holy river Godavari originates near Trimbak. Kushavarta Kund (sacred Pond) also lies in the temple premises built by the "Shrimant Sardar Raosaheb Parnekar," known as Fadnavis of Indore State. Shri. Nanasaheb (Peshwa Balaji Baji Rao) constructed the current Trimbakeshwar Temple.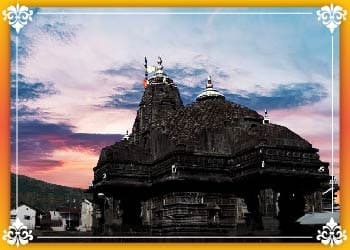 Temple is located at the foothill of the mountain "Bramhagiri," where the Holy River Ganga originates (Maharashtra's longest river). The History of the Trimbakeshwar Temple is that it was built-in 1755-1786 AD by Shri. Nanasaheb Peshwa. The word "Trimbak" indicates Trinities (trideva): Lord Brahma, Lord Vishnu, and Lord Mahesh. The Temple is made with black stone, and it is bordered with a 20 to 25ft stone wall that gives a prosperous look. In the Trimbakeshwar Shiva Temple premises, Kushavarta Tirtha (holy Pond) is 400m away located. It is 21ft deep pond that was built in the year 1750. It is believed that Kushavarta is the place where the holy Ganga River remerges after disappearing at Bramhahgiri hills and thus the superior holiness of the Kushavarta Tirtha.
It is said that many events are witnessed in the premises of this sacred place of Trimbakeshwar Shiva temple-like as Lord Rama came at Trimbakeshwar for doing Shraddha of their father Dashrath, Sage Gautama took the dip bath at Kushavarta pond (holy Pond). The Mukhya Dwar (main gate) of the Trimbakeshwar Temple leads us to the visit queue, splitting into 6-7 lines for devotees' convenience. At the beginning of the temple, a prominent Nandi (made of white marble) faces the Shiva linga. Nandi is said to be the Vahana (Vehicle) of Lord Shiva (Shankara). It is believed that if one tells his wish/ desire in the ear of Nandi, then he will convey that wish to Lord Shiva. After the Nandi temple, there is a big (spacious to meditate and worship) hall called "Sabha Mandap," and then "Gabhara" main temple where linga is situated.