Finding the best sleepwear for your kids can be difficult. There are a lot of things that you need to consider and so many types. It's essential to know first which type of sleepwear you want to buy for your child. There are many options available out there, so it's better to be prepared and know more about it. To help you, here is a list of the types of sleepwear made for kids of all ages.
1. Wearable Blankets
There are different types of sleepwear depending on the age. For infants, wearable blankets and sleeping bags are the solutions for a peaceful slumber during the night. They provide a comprehensive cover and comfort for the baby.
Since it is not advisable to cover a baby with a blanket for the first few months, wearable blankets have been the solution for parents. It helps keep parents from worrying if their baby would be cold or suffocate at night.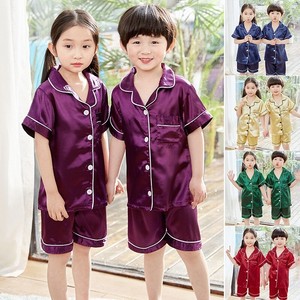 The lower part doesn't end with legs but with a bag that will keep your baby snuggled up throughout the night for maximum warmth and comfort. It's the perfect sleepwear for an infant any month.
2. Onesies
For babies to toddlers who outgrew their sleeping wearable blankets, onesies are the next best option. Onesies come in two types, with feet or without feet. This is probably the most accessible type of clothing for your child to wear as it is only one whole piece of clothing that covers the entire body.

It's essential to take note of the size before buying a onesie. Make sure that it is not too small as your child will feel irritated with it. It shouldn't be too big also because once your child goes on a move, they will end up being entangled in their onesies.
3. Two-piece Pajamas
The most common type of sleepwear for any age is two-piece pajamas. You can go for many options, such as short-sleeved or long-sleeved, short pants or long pants. Make sure to get a pajama that can cover up your child well during the night which is why finding the right size is essential.
There are also many fabric types that you can choose from, such as cotton, flannel, or silk. Over the past few years, kids silk pajamas and cotton pajamas are undoubtedly the best-selling pajama fabrics as they can keep your child calm during summer and provide enough warmth for winter.
4. Bodysuit
If you're trying to find fantastic sleepwear for your child during the summer, the bodysuit is one of the best options. They can cover up your child's body, back, and belly while the arms and legs are left uncovered. You can also have many options when it comes to bodysuits, such as short sleeves or long sleeves, depending on your preference.
5. Nightgown
We can't finish this list without mentioning nightgowns. This type of sleepwear has become popular with young girls over the ages. While some may find it uncomfortable, others find it very easy to wear and easy to sleep with. It would be best if you took note of the skirt's length when buying a nightgown. Longer skirts can limit your child's movement and make them feel uncomfortable.