Eat raja is a juice bar in Malleswaram, Bengaluru. It is run by Anand raj that is famous for its zero-waste practices by cutting down on the use of single-use plastic completely. The fresh fruit juices are served in steel and mason jars accompanied with steel straw.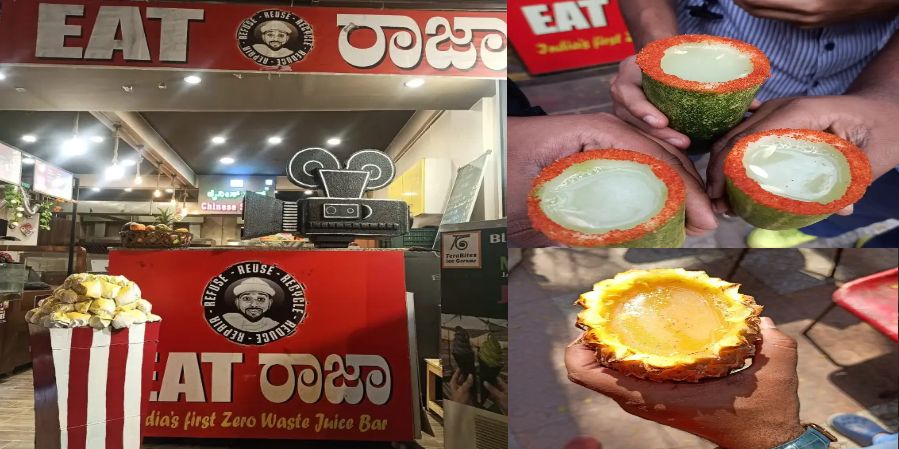 In this time of eat raja carbonated drinks and fruit juices packed with preservatives and processed sugar. Eat raja is successful in maintaining its legacy to sell fresh fruit juices. With Anand's mother joining the business, Eat Raja also serves homemade delicacies all prepared with love.
Apart from setting up the business and making the sales, another big issue that most businesses face is the production of plastic waste. Not many know how to segregate the waste or even how to dispose it off properly.
A developing country like India where many people sleep with no food at night, according to a report, Indians throw away 40% of food each year. Taking about Bengaluru alone, 3,000 to 5,000 tonnes of solid waste is produced every day. The waste comes mostly from the hotels or small food stalls.
After taking over his father's business, Anand decided to minimize the generation of waste his juice shop and aspired to make it sustainable and zero waste.
The journey of Anand Raj
Anand Raj is a well-known Radio jockey who worked for 12 long years in Bengaluru before taking over the juice shop run by his family. Anand's dream was to become a radio jockey but by taking over the legacy of Eat Raja, he turned into an entrepreneur. Without much thinking, he left his flamboyant career and came back home to take forward his family business.
Anand Raj
Source- Facebook
The story behind 'Eat Raja'
Eat Raja is a 45 years old juice shop run by Anand's father BS Nagaraj and the shop was called BS Nagaraj's juice counter. In 2016, after the sudden passing of BS Nagaraj, the responsibility came over to Anand. He did not let the business ruin and it was built by his father from the scratch. To keep the memories of his father alive, Anand quit his job and started the business afresh. The juice shop reopened in September 2017 renamed as 'Eat Raja'.
Eat Raja
Source- Facebook
How it became a zero waste juice corner
When Anand's father used to run the place, he was constantly irked by the amount of waste shop generated in terms of plastic cups, straws, carry bags, PET bottles, etc.
Anand decided to get rid of this trail of waste and made several changes in making Eat Raja- the first zero waste juice shop in the world.
Suggested For You
Bootstrap Media Preview
Sukriti - The Next-Gen Tech For Clean Public Toilets And Clean Water For New India
The first step was to stop selling the packaged drinking water bottles, even though they were one of the main sources of revenue.
The next step was to change the serving style. The fresh juices were served in steel or mason jars and plastic straws were replaced by steel straws. But with this, Anand realized another problem of water crisis that was gripping the city, then he decided to serve the fresh fruit juice in fruit shells such as of watermelon or pineapple. This solved two purposes simultaneously, the water needed for washing the jars was eliminated and the solid waste was recycled effectively.
Juice served in fruit shells
Source- Facebook
Another idea was to change the packaging game; the https://en.search.wordpress.com/?src=organic&q=eat raja juice is packed in collected bottles of beers and breezer. To avoid the spilling of juice, the bottle tops are covered with banana plant.
Anand's juice shop uses no plastic carry bags and the customers are encouraged to bring their own bags or cutlery from home.
No waste gets wasted
Apart from generating the minimal waste, it is also important to dispose the generated waste properly. The final step in making Eat Raja zero waste is the proper disposal of the waste.
When the shop used to generate plastic waste, Anand gave the plastic waste to Bengaluru's Dry Waste Centre that helped in effective recycling.
Now that the shop is plastic free. The fruit waste is segregated properly, the citrus waste is one bin and other fruit waste in another bin. The citrus waste is used to make bio-enzymes which is used in cleaning the steel straws at the shop and can also be used to manufacture detergents and floor cleaners.